Contacts
If you require any information, product or service, please contact us. Our specialists will be pleased to assist you. We will give you advice on how to proceed and what products are the most suitable for you. We will offer you a comprehensive solution.
I.B.C. Praha spol. s r.o.
E-mail:
ibcpraha@ibcpraha.cz
Phone:
+420 251 006 111
Fax:
+420 251 006 222
Address:
Karlštejnská 9 CZ-252 25 JINOČANY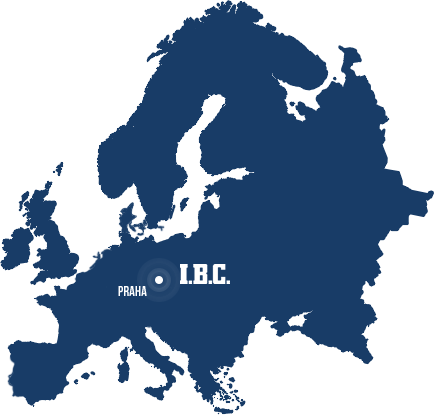 Representation in Russia
E-mail:
mikheev@ibcpraha.msk.ru
Phone:
+7(495) 646 3877
Mobile:
+7(985)3670145
Address:
Ul. 3. Tverskaya Yamskaya d.31/35 entry No. 4, office No. 66,  125047 Moskva, Russian federation
Bankers:
Československá obchodní banka, a. s.
CZK č. ú.: 257935207/0300,
IBAN: CZ65 0300 0000 0002 5793 5207
EUR č. ú.: 252732670/0300 (EUR),
IBAN: CZ51 0300 0000 0002 5273 2670
USD č. ú.: 263776740/0300 (USD),
IBAN: CZ92 0300 0000 0002 6377 6740
Contact persons
Management of company
Jaroslav HANOUSEK
Managing and commercional director
Premysl INDRAK
Technical director
Quality and HSE
Vladimir Kubat
Manager of Quality and HSE
R & D department
Ing. Jaroslav HOLA
Head of department
Ing. Ladislav OBERMAJER
Designer senior
Martin VESELÝ
Designer
Department of project management
Department of realization and sales
Department of production management
Miroslav DOHNAL
Production director
Jiří Janík
Manager of cooperation
Quality management department
Jarmila POUCHOVA
Head of Department
Pavel GRUBER
Specialist for accepting deliveries and accompanying technical documentation
Human resources department
Jaroslava NAVRATILOVA
Human Resources Department